DWFritz Defect Detection System
Smart Inspection in Seconds
Deep learning defect detection system identifies surface imperfections with speed, reliability and precision
Featuring deep learning technology, the DWFritz Defect Detection System quickly identifies defective or anomalous parts, helping manufacturers reduce costs and meet consumer quality expectations.
Defect Detection System – Side View
Key Features 
High powered GPU image processing system

High resolution camera with global shutter optimizes field of view and measurement precision

Custom multispectral lighting and strobe controller

Custom fixturing and part handling capabilities
Defect Detection System – Front View
Key Benefits
Flexible inspection system combines advanced machine vision with deep learning algorithms

Surface defect detection distinguishes desired features from anomalies while tolerating natural variations in complex patterns

Detects defects on glossy, shiny or rough surfaces

Easy setup and operation with automatic orientation of part for inspection

Provides precise part placement without marring the part surface

Rapid inspection part programming allows for efficient setup of different part configurations

Identifies production defects in real-time, enabling adjustment of upstream processes to reduce waste

Available as a standalone system or as an option on other DWFritz metrology and assembly systems
Innovative Artificial Intelligence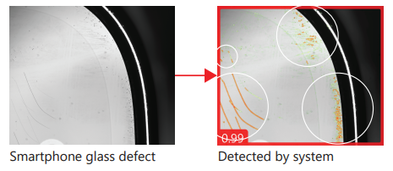 While traditional machine vision systems use complex rules-based algorithms and require precise defect definitions, the deep learning software learns from images of good and bad parts, reducing the time needed to specify defects and respond to changing requirements. Combined with advanced robotics, custom multispectral lighting and custom fixturing, the DWFritz Defect Detection System helps improve product quality while reducing manufacturing and warranty costs.
Powertrain Components

Gears

Cams

Pistons

Assemblies

Gasket Surfaces
Smart Phones

Tablets

Electronics
Prosthesis

Surgical and General Instruments

Medical Implants

Dental Implants

Distractors
203 x 135 x 6 mm (L x W x H)